Welcome to the official site of Jean-Claude van Itallie
​
Upcoming Workshops and Performances
​
Shantigar Open Gate
Register here


Ellen Stewart and Jean-Claude at Shantigar —Thanksgiving,
mid 90's
Jean-Claude van Itallie and the Off-Broadway Theater
by Gene Plunka
This book is a critical study of the plays of Jean-Claude van Itallie, published 1998, University of Delaware Press.
"I've been going to the theater for more than forty years. So I've been able to follow the career of Jean-Claude van Itallie from his earliest successes. His work intrigues and challenges me.
Gene Plunka honors the profession of theater scholar by writing the first book on this important playwright, in which he argues that 'van Itallie has done more to expand the range of dramatic structure than any other playwright since O'Neill.' Plunka's book needs to be read by everyone serious about theater today."
Alex Gildzen, poet and former Curator of Special Collections, Kent State University.

Forest Bathing at Shantigar

Tea with Demons—Games of Transformation
now available as Ebook: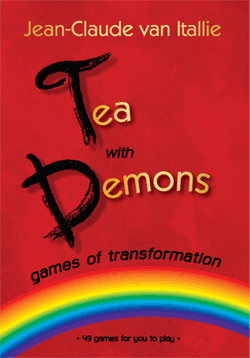 The Fat Lady Sings
Jean-Claude's latest play, Directed by David Schweizer.
The Fat Lady Sings is the wild, truthful play that we have all been waiting for! The Fat Lady Sings exposes the rotting old belief systems and moth-eaten myths that have brought 2019 America to its knees. A White authoritarian evangelical family -- the father eerily like today's occupant of the White House -- lives out its excruciating and abusive confusion of real and virtual on an ancient, dream-like, falling-apart ship of false notions. Filled with rage, despair, and denial; and, exploited by politicians, preachers, and commercial corporations, the family careens toward catastrophe but also—amazingly—cathartic change.
Premiered at LaMama March 22 - April 07, 2019.

MILA, Great Sorcerer, Jean-Claude's opera with co-librettist Lois Walden, Andrea Clearfield—composer, Gene Kaufman and Terry Eder—producers, and Kevin Newbury—director.
Oratorio performance in NYC at Gerald Lynch Theater, January 13, 2018.


​
Come to Tea with Jean-Claude in Manhattan:
Legendary playwright Jean-Claude van Itallie hosts NYC's most original thinkers, artists, and activist at Alchemist's Kitchen.
Next event: TBD.
Watch the video's from the past events:
June 27, 2017 with Douglas Rushkoff
May 8, 2017 with Penny Arcade

About:
Jean-Claude van Itallie, born in Brussels in 1936, emigrated to America with his family in 1940, grew up on suburban Long Island, graduated Harvard in 1958, and in the sixties was a seminal force in the explosive New York Off-Broadway theater.

Van Itallie was one of the original playwrights at Ellen Stewart's LaMama Experimental Theater Club. Playwright-of-the Ensemble of Joe Chaikin's Open Theater, van Itallie wrote THE SERPENT, arguably the most successful piece of ensemble theater by any theater group.
His acclaimed anti-Viet Nam war play, AMERICA HURRAH, Three Views of the USA (INTERVIEW, a fugue for eight actors, TV, and MOTEL, a masque for three dolls), was the watershed dramatic event of the sixties..
"Brilliant!" Harold Pinter
"Motel is possibly the best one-act play I have ever seen." Norman Mailer
"...a compelling image of American violence... an extension of our powers of envisaging ourselves." Newsweek.

Van Itallie's over thirty works include plays on a gay theme WAR and ANCIENT BOYS, long brilliant monologues STRUCK DUMB (written with Joe Chaikin) and BAG LADY, "Doris" plays, ALMOST LIKE BEING and I'M REALLY HERE, THE TRAVELER (about healing), LIGHT, Voltaire, the Mathematician, and the King of Prussia (witty wild love triangle), FEAR ITSELF, Secrets of the White House, a farcical tragedy about Bush II, and TIBETAN BOOK OF THE DEAD or How Not to Do It Again, a transformative ensemble play based on traditional texts with the imprimatur of van Itallie's Tibetan Buddhist teacher, Chogyam Trungpa, Rinpoche (published as TIBETAN BOOK OF THE DEAD FOR READING ALOUD, North Atlantic).
Van Itallie's classic translations of Chekhov (CHEKHOV, THE MAJOR PLAYS, Applause Books), prized by directors and actors for their clarity and subtle rhythms, are possibly the most performed Chekhov versions on the American stage..
"Best translations of Chekhov into English," Vitaly Voulff, pre-eminent Moscow critic.
Van Itallie was one of three actor-writers in the performance piece GUYS DREAMIN, 1997. In 2012 van Itallie performed a one-man show, Confessions and Conversation, at the Ellen Stewart Theatre at LaMama in NYC, directed by Rosemary Quinn. Van Itallie's autobiographical one man show, WAR, SEX, AND DREAMS received raves in NY and LA Times in 1999 and 2000.

A BIOGRAPHY IN THEATER, by William Coco
The early plays of Jean-Claude van Itallie, in terms of their brevity, wit and social commentary, may be taken to resemble the early one- acts of Ionesco or, better, Chekhov —- and later in his career van Itallie will compose luminous American versions of the major Chekhov plays. read more

An inspired teacher, van Itallie has taught play writing and performance as well as WRITING ON YOUR FEET workshops at Princeton, NYU, Harvard, Yale, Amherst, Columbia, Middlebury, U of Colorado, Naropa, Esalen, Omega, NY Open Center, Shantigar, and many other places. He's the author of THE PLAYWRIGHT'S WORKBOOK (Applause Books). Van Itallie's newest book, TEA with DEMONS, Games of Transformation (Haley's), is an adventure into a new genre—49 self-development games for the reader to play.

Van Itallie has transformed the old farm in Western Massachusetts where he's lived for decades into SHANTIGAR FOUNDATION for Theater/ Meditation/Healing (Shantigar.org).

Education and Teaching History
"Jean-Claude is the only play writing teacher I ever had." Tony Kushner

Jean-Claude van Itallie's academic and teaching history (not including single lectures and workshops on various aspects of theatre and writing given internationally):
Education:
Harvard A.B., 1958

Neighborhood Playhouse, acting,
summer, 1958

Kent State University, honorary doctorate, 1977

Teaching, Directed Plays, and Honors:
click here.


A Few Words from Jean Claude...
Welcome. Please email me with questions or comments, and check out my new book, Tea with Demons, Games of Transformation.
I give creativity workshops in various venues, open to everyone (see Latest News for schedule).
As artistic director of Shantigar Foundation for theatre, meditation, and healing in the beautiful hills of Western Massachusetts, I urge you to check out Shantigar.org.
Hail to you and thrive, Jean-Claude