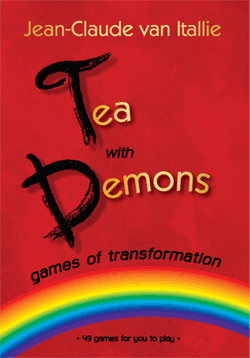 TEA WITH DEMONS
a sparkling new book by Jean-Claude van Itallie
Games of transformation are playful daily practices that flow like a constant brook over the stubborn stones of our old self-destructive patterns, thus slowly wearing them down and washing them away to reveal the stream bed of our basic good nature. —Jean-Claude van Itallie

I'm half way through this marvelous book and never want it to end!
It's Jean-Claude's lifetime researchinto how to live fully, and I am enjoying every page.
Amazing how completely he has devoted himself to this. Thank you, Jean-Claude!
Edward Field

Tea with Demons is a gem. A beautiful book to revisit again and again.
Marisa Viola
​
Now also available as eBook!

Jean-Claude van Itallie and the Off-Broadway Theater by Gene Plunka
This book is a critical study of the plays of Jean-Claude van Itallie, published 1998, University of Delaware Press.
"I've been going to the theater for more than forty years. So I've been able to follow the career of Jean-Claude van Itallie from his earliest successes. His work intrigues and challenges me.
Gene Plunka honors the profession of theater scholar by writing the first book on this important playwright, in which he argues that 'van Itallie has done more to expand the range of dramatic structure than any other playwright since O'Neill.' Plunka's book needs to be read by everyone serious about theater today." Alex Gildzen, poet and former Curator of Special Collections, Kent State University.
Best book I've found for the beginnerm I've been wrestling with playwriting for more than a decade. The last book I used was Playwriting in Process, which is excellent, but the exercises are too advanced for me. "Write a scene in which two people have a secret but no one talks about it," for example. If I knew how to write a scene I wouldn't need to do exercises!
The Playwright's Workbook, on the other hand, deals in the very basics. Van Itallie explains how each scene needs a "who," "what," and a "where." His writing voice is notable for its simplicity and warmth. For the first time in my life I'm getting the sense that I can actually write plays. Adam Schwartz
A Beautiful, Accessible, Deep and Poetic Book
Jean-Claude van Itallie has done us all a wonderful service by adapting his rich and meaningful play into a lovely book that is a feast for the eyes, ears, and mind. This book makes a perfect, accessible introduction to one of the core teachings of Tibetan Buddhism. Without being morbid, the text takes us on the journey of a soul facing death, and gives ageless advice on how to approach not only death, but also the little deaths we face in everyday life. The combination of poetic yet pragmatic text, with evocative photos and images, is achieved simply and elegantly. I would recommend this book to anyone, but especially to those learning about Buddhism or interested in Tibet, or to those who know of one who is facing death or loss. This book would be a treasured and memorable gift. Bravo to van Itallie for bringing these ageless teachings into the modern world with such elegance and spirit! Amazon Customer Review
The Serpent- playing with poison
Writing in the turbulent late 1960's, Jean Claude van Itallie traces the chaotic, violent state of modern man to Genesis and original sin in the play The Serpent. Abstract representations of political assassinations and banal, detached monologues diagnose America as a sick society weakened by war, turmoil, and essentially lonely individuals. The Garden of Eden, complete with the Serpent itself, is van Itallie's meeting place connecting the fall of modern society to the fall of Adam and Eve. Van Itallie suggests that society can heal when we "revisit" the Garden of Eden and recover our collective lost innocence through hope and connectedness with ourselves and with one another.
​
Van Itallie's work is precise and engaging. Overlapping dialogue, experimental bodily gestures, and fragmented plot structure accurately reflect the societal malaise to which van Itallie refers. His creative use of actors as inanimate objects, as the collective voice of God, and as the Serpent himself stunningly implicates man as a powerful force capable of goodness, evil, and the transcendence of both. His work is neither idealistic nor cynical. Van Itallie tells a new story through narratives familiar to us all; he touches the collective unconscious of the audience to force us into both personal and political consciousness. The Serpent is responsible, well-written, and relevant art.
Amazon Customer Review

AMERICA HURRAH and OTHER PLAYS
Published by Grove/ Atlantic, NYC, 2001: plays in this volume include War, America Hurrah, The Serpent, Eat Cake, Bag Lady, The Tibetan Book of the Dead or How Not to Do It Again, and The Traveler.

from the introduction by Bill Coco:
"This collection of Jean-Claude van Itallie's plays represents a generous overview of a twenty-five-year span in the career of one of the foremost and most original American playwrights of the last half century."
Performance versions of van Itallie plays may be ordered from Dramatists Play Service.


THE PLAYWRIGHT'S WORKBOOK
Applause Books, NYC, 1997.

"Jean-Claude is the only playwriting teacher I ever had." Tony Kushner.
​
"The first book ever to allow students to go beyond the well-made play into the heart and soul of the twentieth century…. An incomparable contribution to the field." Howard Stein, head, Dramatic Writing Programs, Yale Drama, Columbia.
FROM THE INTRODUCTION TO THE PLAYWRIGHT'S WORKBOOK
Everyone agrees that learning to act requires some practice. But playwrights are often presumed somehow to spring forth full-grown like Athena from the head of Zeus. Playwrights are viewed as artists who must miraculously make something out of nothing. Facing a blank page or computer screen, this notion can be daunting. It's more useful for we playwrights to consider ourselves vessels or instruments, seismographs or channels through which energies may play.

This Workbook provides writing exercises for playwrights in the way that acting schools provide acting exercises for actors... Elements covered by the Workbook include creating characters, developing story or plot and writing in the natural rhythms of human speech.
Along with theory, the Workbook develops the practice of playwriting through a series of exercises. Most of the exercises are executed with writing implements. But the practice and understanding of theater is also a physical and emotional affair.

CHEKHOV: THE MAJOR PLAYS adapted by Jean-Claude van Itallie
Applause Books, NYC, 1995. Jean-Claude van Itallie's much acclaimed English versions of Anton Chekhov's The Sea Gull, The Cherry Orchard, Three Sisters and Uncle Vanya.
"...The advantage of using major playwrights to Anglicize foreign classics are obvious. Occasionally they may slip into the pit of primal creativity, but for most of the time, indeed for virtually all of the time they are renewing language rather than translating it. … Mr. van Itallie's Sea Gull is idiomatic, but it has the overtones of now and then. It is a real past – translation does have its advantages when the right person is translating the right playwright. There is here the soft trampoline of a subtext that original language productions can never aspire to without the risk of desecration of a national monument." Clive Barnes, New York Times.
For excerpts and more reviews, please go to Sea Gull, Cherry Orchard, Three Sisters and Uncle Vanya under "plays" on this web site.

THE TIBETAN BOOK OF THE DEAD FOR READING ALOUD adapted by Jean-Claude van Itallie
The ancient Tibetan text adapted by Jean-Claude van Itallie. Photos from La Mama performance by Gerry Vezzuso. Tibetan art illustrations selected by Professor Deborah Klimburg-Salter. Introduction by Judith Lief, former Dean of Naropa Institute. Published by North Atlantic Books, Berkeley, CA, 1998.
"Jean-Claude van Itallie, one of our most original playwrights and a longtime practitioner of Tibetan Buddhism, has taken Guru Padmasambhava's 8th century masterpiece, The Great Liberation Through Hearing in the Bardo, or as it's known in the west, The Tibetan Book of the Dead, and rendered its essential brilliance into deeply moving and inspiring poems meant to be read aloud. Its sole intent is to pilot us wandering voyagers through the illusory and superstitious realms we call life and death.
With constant reminders to pay attention and watch our minds, the poet urges us to come to our senses and remember our Nobly Born true selves completely beyond all designation, all hope and all tears… merging with the clear light bliss, no center, no circumference, an ocean with no boat… I love this little book. Read it aloud!"
Richard Gere
"Jean-Claude van Itallie's presentation of this old classic brings us face to face with the radiance and emptiness of our own minds. He has made new a relevant — even urgent — text: A guide for the continually arising moments of choice in our living and in dying." Diane di Prima

INDIA JOURNAL
This book is a journal kept by Jean-Claude van Itallie during his three months in India, Nepal and Ceylon in early 1971, includings visits to H.H. the Dalai Lama's capital-in-exile, Daharmsala, seeing the Mother at the Sri Aurobindo ashram in Pondicherry, and a talk with the filmmaker Satyajit Ray in Calcutta. India Journal was edited by Michael Feingold and reached page proof, but the publisher (Winter House) went out of business before India Journal could be published.
​
"A marvelous piece of work. It sheds light on so many different aspects of Indian life, many of which I would never even think about. It is as much a thoughtful voyage through life anywhere on the planet and our place on it, as it is to India alone.
This journal also provides an eye-opening view to an India (or many Indias, as the author points out) which I suspect has not changed very much since that time for the vast majority of the population."
—Peter Meyer
From the journal:
"Sometimes, I think I am a prisoner visiting or permitted to view a lot of people who are free. Sometimes, I think the reverse, that I am a free man, visiting a prison. It is rare and wonderful when I feel we are in the same world."
​
EXCERPT
1971... Jan 30... 5:30 P.M., Patankot Railway Station
We were misinformed about the train time. We shall have to wait here six and a half hours.
Patankot is a railway junction and a military base. Those are its claims to the map. It is as ugly and miserable a place as I have ever seen. The air is nearly unbreathable from factory fumes and the fumes of charcoal and the yak dung fires. It is very cold. Evening. From the bus stop to the station we came in a bicycle rickshaw -- a short haul through the muddy main street, murky with smoke and smog, crowded with people buying and selling and shivering. The cold is unusual this year, and no one is prepared.
The ride here by bus from Dharamsala was worse than the ride out: the noise of this bus's motor was a loud screech. The horn ceaseless ordered to the side pedestrians and bullock carts and bicycles. A face glimpsed out the window: a single young ,man, not particularly downtrodden, standing by the edge of the road in a small town, a wool scarf half-heartedly covering part of his head; he isn't moving, he is just staring straight ahead. Toward what? By Western lights there is nowhere for him to go. Delhi? No means to go. Nothing to do if he gets there except sleep on the sidewalk with the others. No wonder the Easterner turns inward. No outward direction seems possible; to live inwardly is clearly the only way out.
Yet certain yogic teachers have gone to the West because they say, "India is the land where the teachings have been lost." Perhaps that's because when a person starts on a spiritual journey in America and Europe, it is an act of will, a conscious rejection of the seductive everyday world, the material world that wants us to want it. In India, on the other hand, most people don't have the remotest possibility of acquiring any material things at all. To turn inward takes perhaps less of a conscious effort. Or perhaps that's not it at all.
Everyone in the waiting room is coughing, including us, from the polluted air. So many are permanently sick.
The electric lights blink on and off. Even in Delhi they are off for a few minutes at least once a day.
I keep seeing the image of the dark worried driver of our bus, a dirty shawl around his head (just like the driver on the way up), sitting with one hand on the warming drive shaft — there must be an extreme point that he knows, beyond which even this tough old bus will stop or explode.
Craig and I debated whether or not to go to Rishikesh, headquarters of the Maharishi and other divines. But it doesn't seem like the season for complicated train and bus connections, so we are going back to Delhi if we can get a place on the train. The Collector said to come back to his office at seven.
From the lavatory a few feet on my left comes the sound of throat clearing and vomiting. Outside the waiting room are the voices of a hundred men and women chanting, selling, quarreling on the station platforms. This loud hum is accompanied by another hum, that of the faulty fluorescent lights overhead.
Om Mani Padme Hum is maybe the best-known Sanskrit mantra. The four words are repeated over and over again, for their ultimately enlightening effect; the vibration of the sound in the head, even apart from its meaning, is important. What is the relation between the Hum of the mantra and hum of the fluorescent lights in this station? Word games. Although both hums may conceal the same bliss, that bliss seems too unbelievable far away from here. This place is dark, as if buried from sunshine forever, a hell, different from our new plastic ones back home, a more classic one, more naked.
Of course railway stations over the world are bad, especially at nightfall, with sick and uncertain travelers, cold, covered in and breathing in soot, prey to their own fears reflected in the glare of the humanity around them. And there is this relatively quiet bench where I can write down my impressions in a notebook. This is the First Class Waiting Room, and even though I feel a little sick I know nonetheless that there will be a different moment for me later, a future when I will move out of here; the scenery and I will change. Everyone here is doubtless living on that same hope -— the train will come, eventually.
But for the majority of Indians life here on earth is just like this railway station, and if a train should chance to come it will go only to another and similar railway station. Nobody wants to be reborn.
Seven o 'clock and we go back to the Railway Collector. He says he "very much doubts" there is a First Class night reservation available, but if I will come with him (despite the nine Indians with various travel documents their hands clamoring for his attention) he will "gladly show" us the Third Class cars to see if we might be satisfied with that if he could manage to give us confirmed reservations. "Of course," he says, showing us a compartment for fifty people with no whole windows, "This is the train for Calcutta, but the Delhi train is identical." What does he suggest, I ask. He stands there wringing his hands in an internationally infamous way, saying how much he wishes he could be of service, that with his help we can rest assured.... The situation is clear. A small tip will get us into Third Class. A larger tip will guarantee First Class. I give him the larger. Now, he says, "It must be done. It shall," and he practically salutes. I feel rotten. As I ought to. Everything is the same in this country as in any other, only more so; the wound is open.

Essays, articles, plays by Jean-Claude van Itallie have appeared in:
Let's sleep on it: a new acting technique touts dream incubation for creative problem solving.(New Books)(Dreamwork for Actors)(Book Review) American Theatre January 1, 2004

Speaking From the Heart" for Performing Arts Journal, May 1993.

"Education and Disability" for Performing Arts Journal # 44.

Tulane Drama Review: Summer 65, "It's Almost like Being"; Summer 66 — Playwright at Work: Off Off Broadway.

Performing Arts Journal, Winter 1977, "A Fable".

Performing Arts Journal, No.21, 1983. A forum, "The Open Theater, 1963-1973".

Performance, March-April 1973, "Eat Cake!"

American Drama

The Director in a Changing Theater, ed. J. Robert Wills, Palo Alto: Mayfield Publishing Co., 1976.

Playwright's Art: Conversations with Contemporary American Dramatists. Ed. Jackson R. Bryer. Rutgers University Press, 1995. Interview.

Word Plays: An Anthology of New American Drama. Performing Arts Journal Publications, NYC, 1980. "Naropa".

Collision Course; ed. Edward Parone; Vintage: NY, 1968. "Thoughts on the Instant of Greeting a Friend on the Street," with Sharon Thie.

Behind the Scenes: Theater and Film Interviews; ed. Joseph F. McCrindle; Introduction by van Itallie. NY: Holt, Rhinehart, 1971.

The New Underground Theater, ed. Robert J. Schroeder, Bantam: NY, 1968. "I'm Really Here".